..
November 26, 2013

Because of the Raging Bull I am unable to post concepts at Theremin World anymore. The bull must be put out to pasture where he can spend his days licking lithium salt blocks. Digital is nice but it is not of the Theremin Spirit, it is a perversion to make money from a name, call it something else!

.
I am always looking for that very imaginative technical explorer who wants to take the theremin to the next level. I have hundreds of webpages not seen by the public that could guide you to your own personal ultimate instrument. If you figure out how to contact me, tell a little about your background. This is not for everyone. When it comes to theremins many electronic engineers seem to have crippled creativity due to the discipline of their training. They travel down rabbit holes making a project so complicated they don't know how to back up or change direction. They continue to do the same thing over and over and over.
.
New for 2014: My ten years of guidance in the study of theremin design has now concluded.

It is Paul Tanner, my friend, who now gives me inspiration with a completely new approach to the electro-theremin or what he just called The Box.

I envision a new design being more fluid, demonstrating a richer sound, practical to build and play, maybe $100 DIY. This would be real analog sound, not the cheesy digital sound running rampant in the music world accepted by the younger generation who probably has never appreciated the natural beauty of pure analog. If you have ever listened to the original "Good Vibrations" the whistle was a much "sweeter" fatter sine wave sound, not the thin solid state sound accepted in today's imitations and cell phones. Digital does have its place, it works best when used for various control applications, like volume.

How about having this Altermen electro-theremin sound?

Altermen = Alternative Theremin

The Tannerin of Master Builder Tom Polk is an excellent design, construction and sound.
Below is the Voice of a True Transistor Heterodyning Theremin Few ever discover what makes a natural theremin sound good, some misguide you into thinking it is the way you play while others resort to digitally faking it. )-'
Mello Cello? The Voice of Phoenix .mp3 632k
Due to poor hearing and skill I am unable to play a tune but I move through the perfectly linear pitch field, you will get the idea. This is theremin direct to sound card so no enhancement, only by your computer speaker system.
Get sound samples, in digital theremins do you really want a nasty dry whistle?
Uninvited engineers have been theremin developing for years and are still unable to make a good sound.
Ideal Pitch Linearity found in the analog theremin Phoenix will one day be the only acceptable norm. All theremins operating their pitch oscillators at 900 kHz will benefit from the dry Lev Antenna concept while the EtherWave Standard can have perfect pitch field linearity using Agua Bella.
I bread boarded and tested a analog hybrid tube/valve theremin operating at 900 kHz using miniature high Q shielded coils and it also tuned for a "Perfectly Linear" pitch field with a rich sound. Solid state tuning.
When you have true pitch linearity the very low notes play a crisp vibrato. Transistor theremin oscillators can give you a comparable tube osc sound but not exactly that of the original early tube/valve theremins.
In My Lab Photo is a more conventional mounting for the Lev Antenna. Look at the gold painted spring with the jewel on top. The spring uses an internal 3/8" wood or plastic dowel to expand it 1/2" mounted in a thin wall plastic tube for a gorgeous look!
---
Below are creative Phoenix designs by Master builder Dana A. (SewerPipe)

The time has come in the new millennium to evolve into what a true theremin design should demonstrate.
A design that allows the audio/visual expressions of the Thereminist to be intimately experienced.
Sneak Peek the Latest Tube/Valve Design in Process
Dragonfly inside Dana's Workshop 10.01.13
This journey will be > 100 photos upon completion
Theremin Birth
The first thing to notice are clean lines with no dangling cords, they exit out the bottom.
.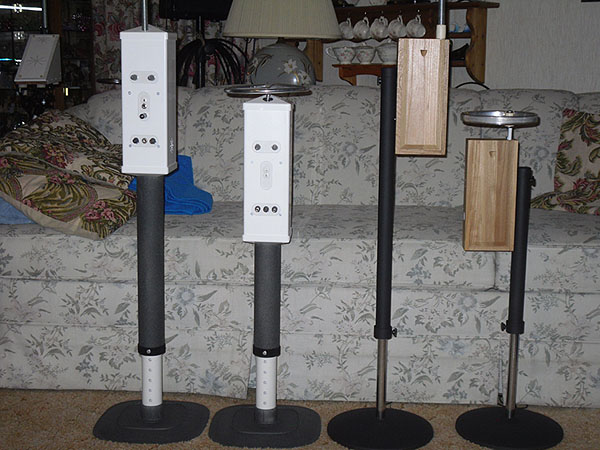 One day all theremins will have a perfectly linear pitch field with the authentic heterodyne sound.
I do not hear well so you judge, this is theremin direct to sound card with a bit of reverb.
This is the hybrid musical instrument Lev Sergeyevich intended Listen.mp3 460k
The foolish will tell you it is the way the theremin is played that develops the interesting voice
without mentioning you need to have a good sound first.
---
| | |
| --- | --- |
| | In my Vision the theremin was revealed as art. There were no antennas, dangling wires or cords on the floor, just stand alone simplicity revealing beauty. The pitch rumbles low, yet sings with the angels. Arm and hand movements control the range of volume, octave change and pitch. It is interesting to me that a beautiful pitch is easier to play. It is as if the theremin finds joy in expressing herself. This theremin is reality and affordable for those who wish to share in the dream of Lev Sergeyevich Termen . . . Christopher November 15, 2003 |