.Website has been renewed until November 3, 2017
January 29, 2015

Aaron, visit my webpage for Wounded Warriors - - Visit my home Temecula Valley



Circa 1935

In my Vision the theremin was revealed as art. There were no antennas, dangling wires or cords on the floor, just stand alone simplicity revealing beauty. The pitch rumbles low, yet sings with the angels. Arm and hand movements control the range of volume, octave change and pitch. It is interesting to me that a beautiful pitch is easier to play. It is as if the theremin finds joy in expressing herself. This theremin is reality and affordable for those who wish to share in the dream of Lev Sergeyevich Termen . . . Christopher November 15, 2003

www.Hwy79.com

---

New Idea: 2015 I am beginning to think an EtherWave Standard Hybrid or EM has promising possibilities to get a thicker angelic and bright sound. The same pcb used to get my TW Altermen sound could readily adapt for this. It would be a bass mod buffer with angelic wings. Then in the future bypass the EWS fixed oscillator section with my 3" x 6.5" vacuum tube pcb mounted on the bottom side of the EWS box, have that authentic throaty sound. If you are interested in this idea start a new thread in the RS Chat Forum title it EtherWave EM Hybrid. Did you know you can buy a new stuffed EWS Board for $96. The value of the E-pro is now threatened.

---

Single Tube Theremin known as the TW Altermen is all solid-state except one tube/valve. Development began on November 3, 2014. It is based upon my dragonfly design and It is the culmination of my 10 year theremin journey. This will become the theremin design of choice as it dispels 13 common theremin myths. Still a few months away, give me just a little more time to document. I have nothing to sell.

Altermen = Alternative Theremin which has the sound of Clara's old classic Listen.mp3 294k

This Altermen design was promised to me in the Vision of 2003

RS Chat Forum
Public New 2014
.
Paul Tanner, my good friend had a nice whistle with his electro-theremin or what he just called The Box.
The Tannerin of Master Builder Tom Polk is an excellent design, construction and sound.
.
New 4.15.14 A unique volume control idea which gives a new dimension to the theremin. This was abandoned due to lack of interest.
Always get sound samples to validate the designer or design you're interested in!
Ideal Pitch Linearity found in the analog theremin Altermen will one day be the only acceptable norm. All theremins operating their pitch oscillators around 922 kHz will benefit from the Thin Wire Antenna concept. Don't do this on your EtherWave Standard it won't work. A properly tuned EWS has good linearity.
I bread boarded and am evolving an analog hybrid tube/valve theremin operating at 900 kHz using miniature high Q shielded coils and it also tuned for a "Perfectly Linear" pitch field with a rich sound. Solid state tuning.
When you have true pitch linearity the very low notes play a crisp vibrato. Transistor theremin oscillators can give you a comparable tube osc sound but not exactly that of the original tube/valve theremins.
In My Lab Photo is a more conventional mounting for the Lev Antenna. Look at the gold painted spring with the jewel on top. The spring uses an internal 3/8" wood or plastic dowel to expand it 1/2" mounted in a thin wall plastic tube for a gorgeous look!

* Today I conclude a long Thin Wire Antenna is ideal *
Below are creative Phoenix designs by Master builder Dana A. (SewerPipe)

The time has come in the new millennium to evolve into what a true theremin design should demonstrate.
A design that allows the audio/visual expressions of the Thereminist to be intimately experienced.
Sneak Peek the Latest Tube/Valve Design in Process
Dragonfly inside Dana's Workshop 10.01.13
This journey will be > 100 photos upon completion
Theremin Birth
The first thing to notice are clean lines with no dangling cords, they exit out the bottom.
.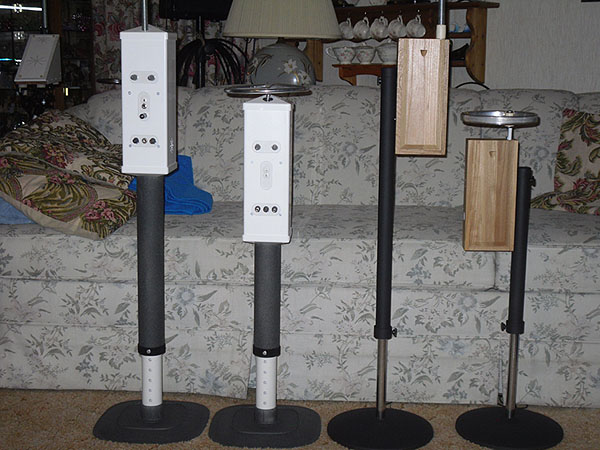 Hopefully one day all theremins will have my perfectly linear pitch field with an authentic heterodyne sound.
This Research was done by Christopher over 10 years, the theremin is much more than a plain digital whistle!
"The foolish will tell you it is the way the theremin is played that develops the interesting voice...
without mentioning you need to have the proper sound first."